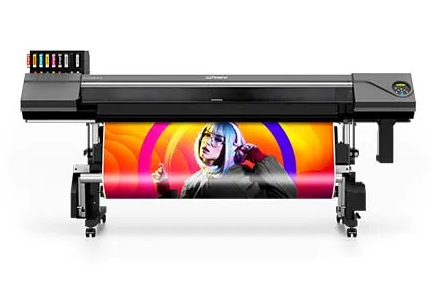 True VISNEW LG & MG Series UV Printer/Cutters
Combining the flexibility of print and cut, the benefits of UV-LED printing and TrueVIS heritage, the LG and MG series add a new dimension to graphics printing.
High-definition output
Speciality printing for textures and effects
Broad media compatibility
High-density white ink
Fast-drying print for quick turnaround and finishing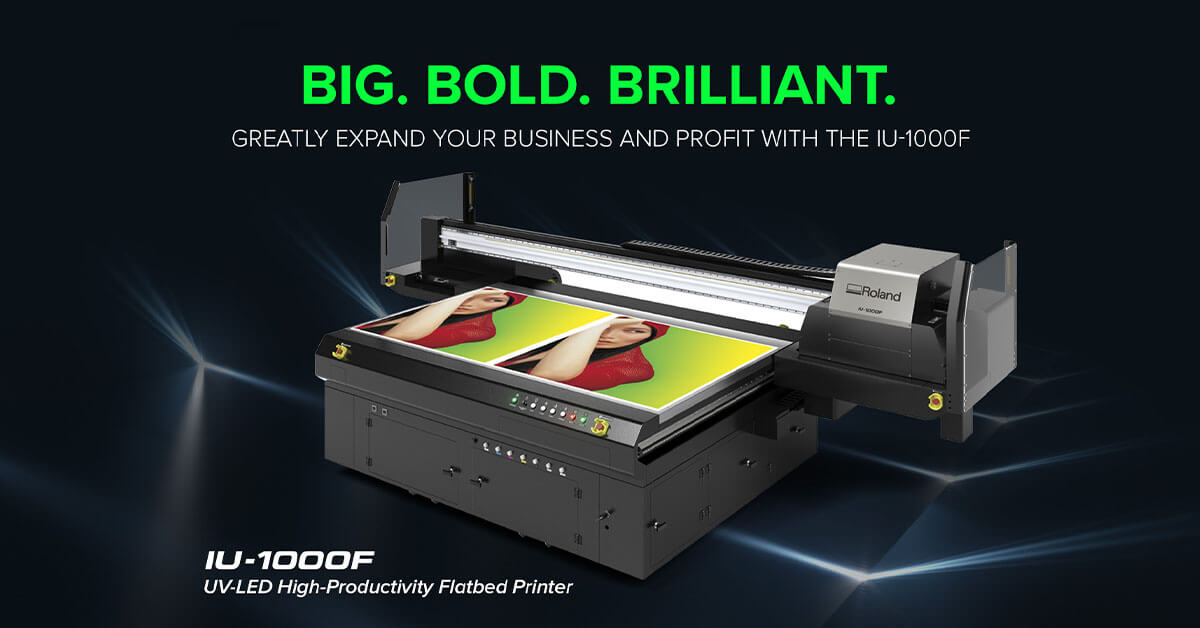 IU-1000F  UV-LED High-Productivity Flatbed Printer
Take your creativity to new heights with Roland's revolutionary new flat bed printer that accomodates material up to 6" thick and 220 lbs. Backed by Roland's long history of trusted technology, this turn key solution driven by Versawork's powerful engine and user friendly interface. Roland's Eco-UV inks produce vibrant, durable color on almost any surface you can imagine.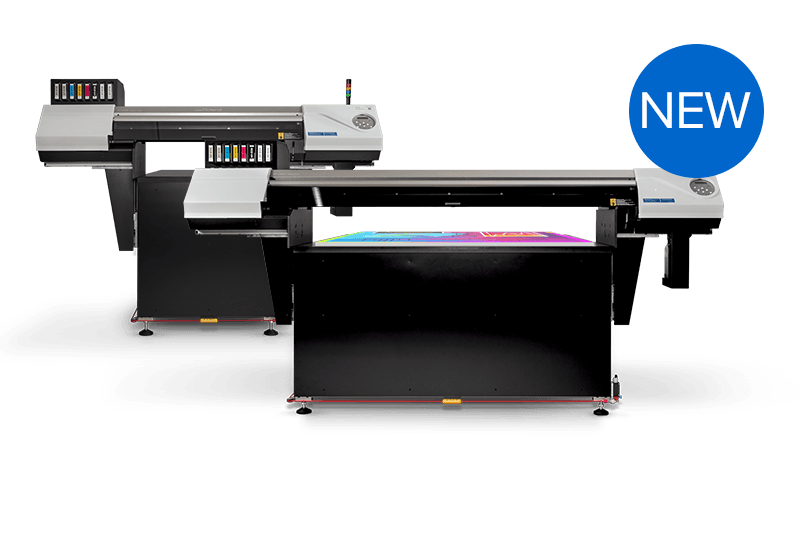 VersaUV LEC2 S-Series UV Flatbed Printers
Discover New Applications, Customers, and Profit with an All-in-One Flexible and Rigid Printing Solution.
Available in 30" and 64" models with six different bed size options
An all-in-one, rigid and flexible printing device with an almost unlimited range of custom graphics possibilities
Extraordinary application versatility— print on signs, panels, boards and products up-to 7.87 inches in height and 2373 lb. in weight
ECO-UV ink in dual CMYK or CMYK with Orange, Red, White, Primer and Gloss ink for 3D textures and embossing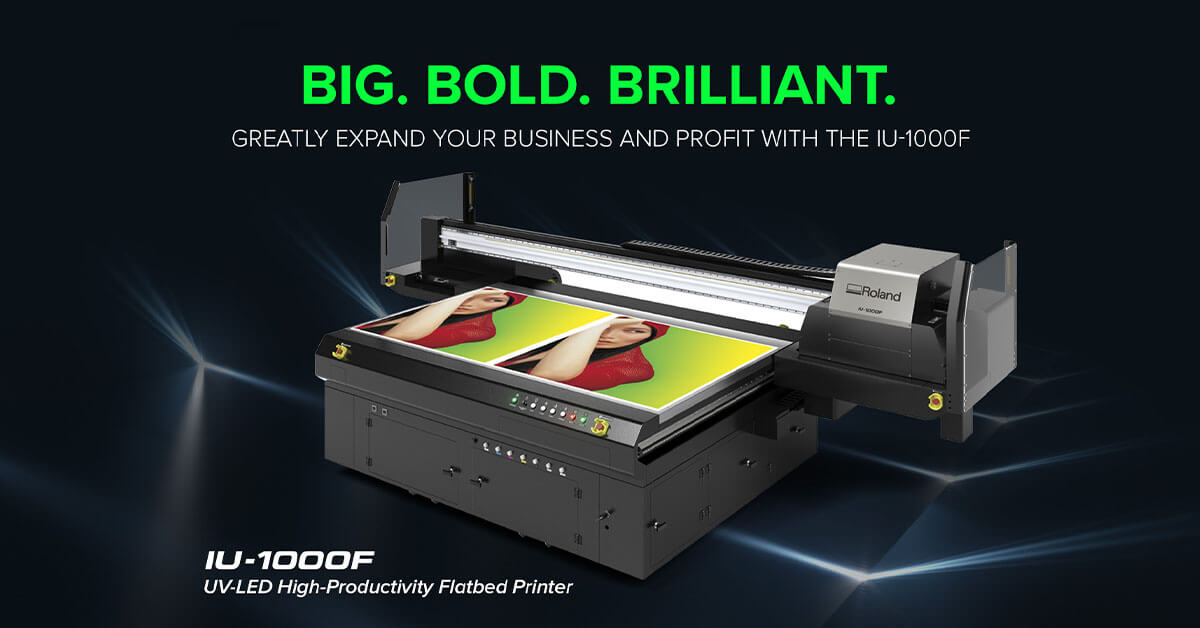 VersaUV LEC2 Series 30" and 64" Printer/Cutter
An all-in-one printing, cutting, and embossing device for creating premium sign and graphics products
True Rich Color quality for unmatched vibrancy, color reproduction and detailed image quality
Print and cut flexible bag media, foils, BOPP, PE, PET film and offset printing stock.
Premium Quality: Precision dot placement, advanced head technology, and new Orange and Red ECO-UV (EUV5) ink options offer the highest quality output with ultra-vivid color results and accurate brand color matching.

Special Effects: Highlight the detail, feel the textures, and create simulated embossing with visible and tangible emphasis.

Integrated Cutting: Create exemplary prototypes in a single operation, and accurately cut elaborate stickers and labels.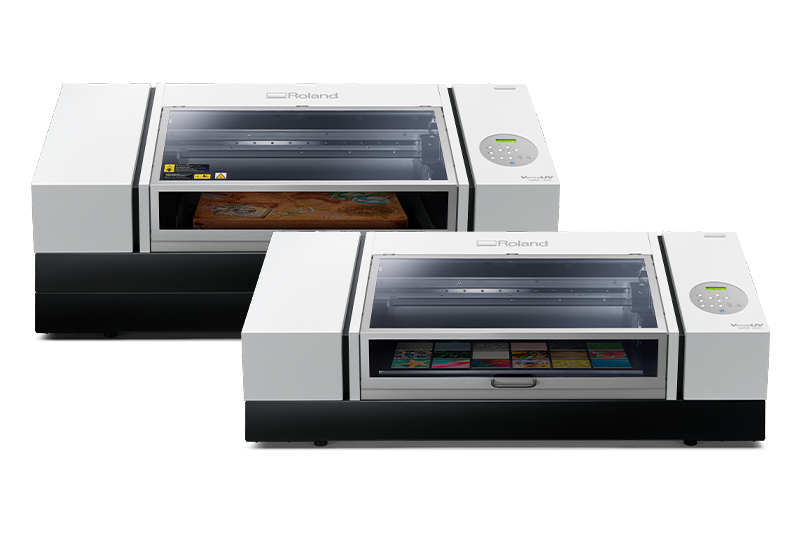 Roland LEF2 Series UV Flatbed Printer
Superior UV technology. VersaUV LEF12i and LEF2-200 printers print directly on a vast arrayof substrates as well as three-dimensional objects up to 3.94" thick ranging from pens and smart phone covers to signs, personalized awards, giftware, promotional items and laptop covers and more.
LEF2-300 featuring a 30" print width, four print heads and two UV-LED lamps for higher-volume customization, the VersaUV LEF2-300 flatbed series is Roland DG's largest, fastest and most feature-packed LEF technology to-date. Direct print onto accessories, giftware, ceramics, and countless other products— producing stunning color, realistic textures and stylish embossed effects